Our monthly meetings are held the 3rd Sunday of every month at 7:30 pm GMT.
Current download available here!
The Virtual Wine Circle is an online-wine circle which meets one a month using a chatroom available through the winesathome forum (you must be a member of winesathome to join). In summary, we provide the Virtual Wine Circle members with exactly what one finds at a "real" Wine Circle: Talks on different aspects of winemaking (with the use of our own youtube videos) with a following question and answer session, wine tasting (a low-cost wine which is available at any grocery store in the UK), questions and answer sessions about difficult ferments or fermenting in general, wine swaps and even some organization of grape pressings (once a year with imported grapes, otherwise known as GrapeFest).
We extend a warm welcome to anyone who wants to join, and encourage you to do so if you are just starting to make wine, have been making wine for a while and would like to improve your skills, or even if you're already a member of a local wine circle: please feel free to use our discussions and youtube videos to make your "real" wine circle even better!
Our youtube videos can be found at: http://www.youtube.com/results?search_query=virtual+wine+circle&aq=f
---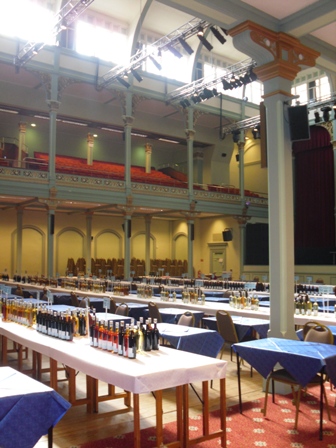 The venue at The Spa
Scarborough, North Yorkshire
Our Competitions
For more information about the current competition, click here.
In August of 2009 we organised our premier "Virtual Wine Circle Competition." This was an open show, no one had to be a member of the circle, no one had to worry about wine snobs looking down on their wines, no sending of heavy, 750 ml glass bottles that may break in the post and no personal drop-off was required.

What we did was the following: We went straight back to the basics, keeping only a few aspects of current UK wine-show rules in ours. Our motto was "Anything Goes!" Since our wine circle is a virtual one, we did not expect our members to come to the competition. We offered 250 ml PET bottles with purple, plastic tops at cost, the entrant could enter in as many bottles as he/she liked. No costly shipping or fuel charges, and smaller, newer homebrewers had the chance to enter small amounts of their wines, without making a huge dent in their cellars. Labels were provided free of charge.

Furthermore, we decided to employ the UCDavis System to our judging, i.e. judging the wine against itself – a radical difference to conventional standards in the British home winemaking competition world. We used UK National Judges who were trained to use the UCDavis System. Each entrant received comments free of charge posted back by mail, but the wines were not returned.
We felt this was a huge success, as did the Yorkshire Federation of Amateur Wine and Beermakers (www.yfawb.co.uk). We have now our own Section at their annual meeting and competition held at the Spa Complex in Scarborough in June of 2010 .
---